Precision Press Molds
Precision Press Molds
Precision Progressive Molds
From the founding of our company we have dealt with precision press molds. In particular, we have results for over a half-century in the field of progressive molds for various types of lead-frame machining, which is the last of the manufacturing processes for semiconductor electronic parts. Each of the molds we provide put into life our technical know-how, backed by our rich results and expertise.
As all of our presses are order-made for our customers, we cannot present our results by posting any photographs of them. Nevertheless, our customers appreciate and trust highly our manufacturing by which we give maximum priority to quality.

Punch Dies For Thin Products (Metal, Resin films, etc.)
Applying our machining technology and know-how, our dies can also be utilized for punching processes of ultrathin, complex or multilayer special-material films, as those necessary for digital house goods or mobile telephones. We have also achieved our unique know-how and practical results on punching of non-metallic thin products, i.e. TAB or COF tape, resin, paper, etc., adapted to materials of various characteristics.

Aluminium Laminate Forming Molds
Our company can boast with its multiple practical results with regard to forming molds for punching, cutting or spinning processes for aluminium laminates. We can respond to a multitude of needs of our customers, from forming of square-section laminates on a depth of more than 10 mm to large-scale product forming of square-section sizes over 150mm, and also for continuous forming of hoop-shaped laminates by a combination with small-scale servo presses internally manufactured.
We also detain various molds for forming evaluation or for tests. Please use our advice for requests concerning prototypes.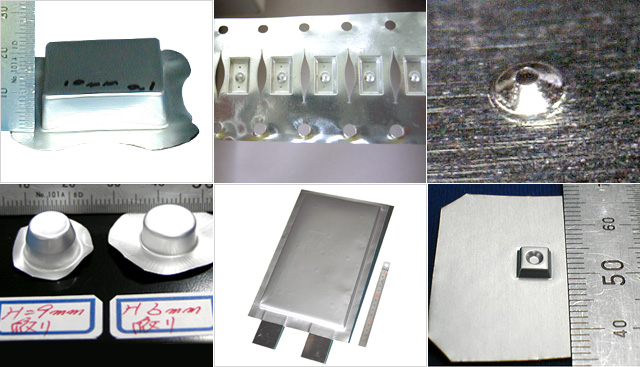 Prototypes
We can answer to various requests concerning prototypes, as we detain numerous prototype molds and press machines for evaluation or tests. We would like to introduce here one example of mold and press machine for prototypes.
Please feel free to contact us for any information.

Example of detained device for prototypes
Molds for prototypes, by clearances (clearance 0 μm)
For punch cut, push-back, punch-up, etc.
Various types of irregular-shaped molds for clearance evaluation
Offset clearance prototype molds (clearance 0 μm)
For punch cut, push-back, punch-up, etc.
Thomson punch prototype molds
Curved prototype molds (various types)
Spinning prototype molds for films
30mm (spinning depth 10mm), 180mm (spinning depth 10mm)
150mm×240mm(spinning depth 15 mm), others
Progressive punch dies for prototypes, by types of process: hole-punching, spinning, flaring, cutting
Molds for shearing resistance analysis
Many others
Press machines for prototypes
Hydraulic presses: 5 ton, 10 ton
Servo press machine of 0.3, 1, 5, 10 ton
Depending on the project, press machines used for mass production can be also used